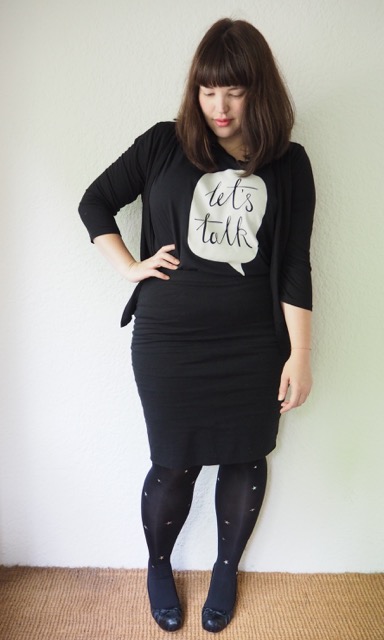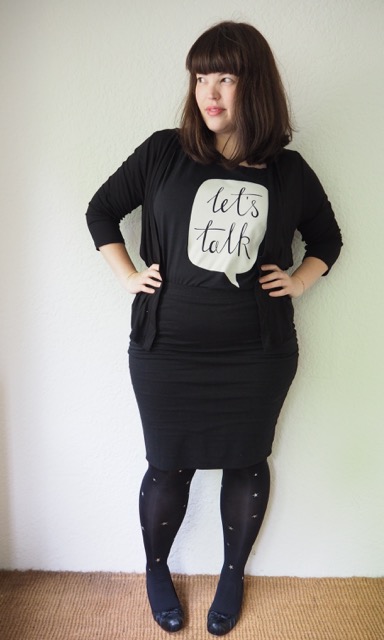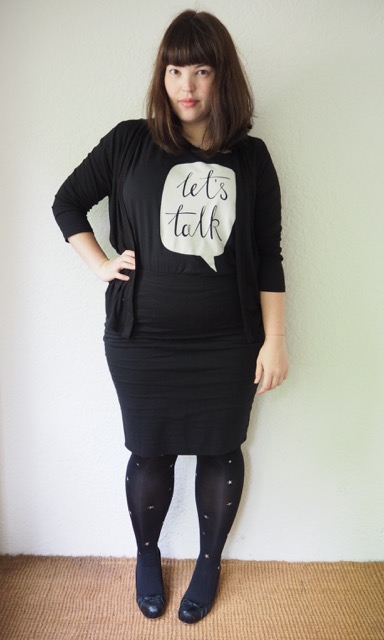 Top: Uniqlo
Cardigan: Katies
Skirt: Target
Tights: em tee see
Well hello, and welcome to Autumn, folks! Can you believe it's March already? Time for me to dust off my tights and cardigans and embrace my favourite season.
 I'm already on the look-out for patterned tights and stockings to wear with my skirts and dresses. As ever Sonsee's my go-to brand for basic opaques (though stay tuned – they launched a couple of pairs of brightly coloured printed leggings at last weekend's Curvy Couture Roadshow) but I'm on the continuous hunt for polkadot and printed tights that can be teamed with my floral printed skirts and dresses.
Last year I was a bit spoilt with BigW doing a range of cotton-blend tights in marled hues and teensy dots. The sizing was inconsistent, but they were cheap enough that it wasn't that big a deal.
This year I'm fairly excited with a new range that I've discovered on Etsy: em tee see.
Based in the UK, their motto is "Jewellery For Your Legs", and they specialise in handprinted and embellished tights and socks.
The tights come in either a 30 denier nude, or a 60 denier black, and from a UK size 8 to 24. I bought the XL's and they fit me and my extremely full thighs comfortably and didn't cut in at the waist, though I had to perform the usual knickers-over-tights trick to keep them aloft.
What I really love about em tee see are the discreet but edgy little design elements: the parade of ants that crawl up the side of a leg, the comic book blast on a calf, the beaded beetles that flash at you from a pair of ankles.
Because I'm obsessed with stars, I bought the stars.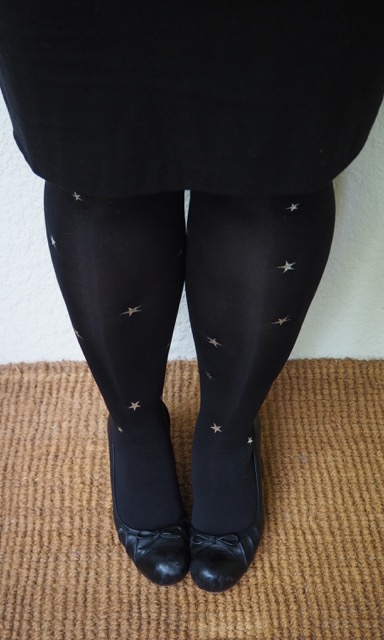 The stars are printed on in a silver foil, so they don't become stretched and misshapen as the tights stretch to fit. They pull a little at the fabric, especially around my thighs where the fabric stretches further, but it's not terribly noticeable. The 60 denier fabric is far from fully opaque, meaning that the tights would be best for trans-seasonal wear when you're not necessarily looking for warmth.
I'll confess that I was a little disappointed that on a larger pair of legs the star print was much less dense than on the model pictured, but I really loved the random placement of the stars and the way they were printed on both the front and backs of the tights.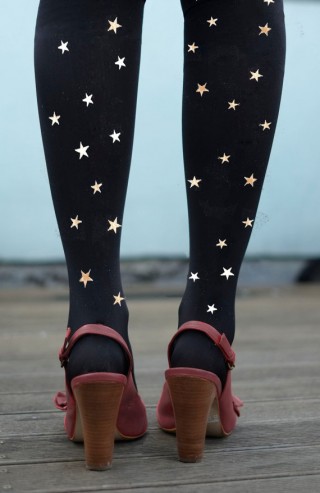 After a long day walking around the ankles were bagging a little, suggesting that I could potentially go down a size – certainly if you have long legs you shouldn't have a problem with drop-crotch. They're a hardy fabric though, and despite repeated wears I haven't had the smallest issue with runs.
Honestly, I love them, and the em tee see shop policy suggests that they do customised orders, so if you were sized out of the XLs (or wanted a different colour) you could very possibly send a pair of tights to the designer Lauren, and have her make you your own exclusive pair (don't you love Etsy and being able to work directly with the designers?).
I'm extremely tempted to ask whether I can send her some pairs of my seriously comfortable Sonsee tights, and get them printed for the best of both worlds: fit AND style!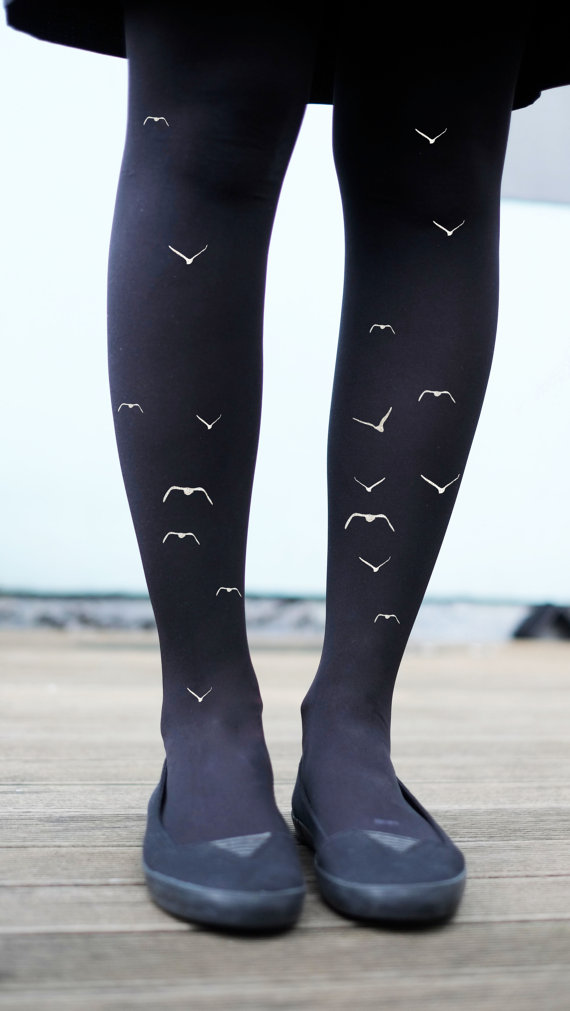 The flocking birds are fairly spectacular .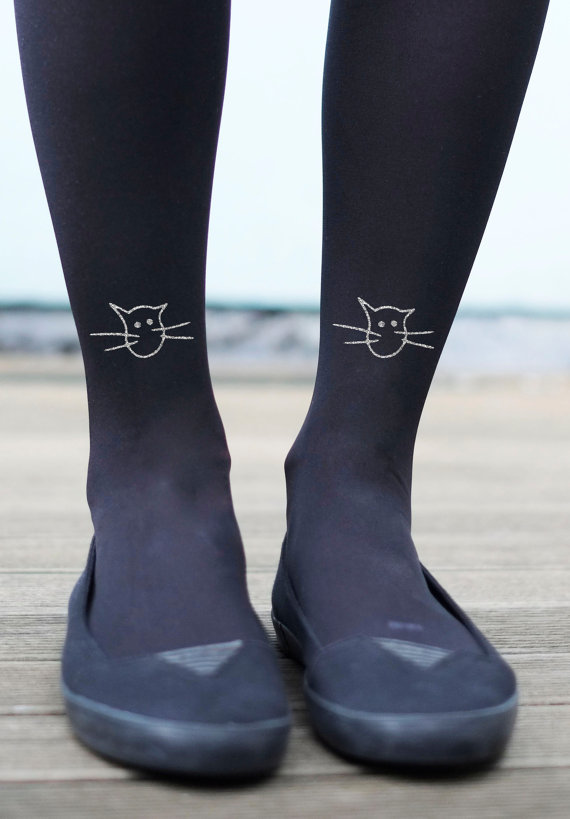 I love how you can wear these cute little cat faces on the front or the back.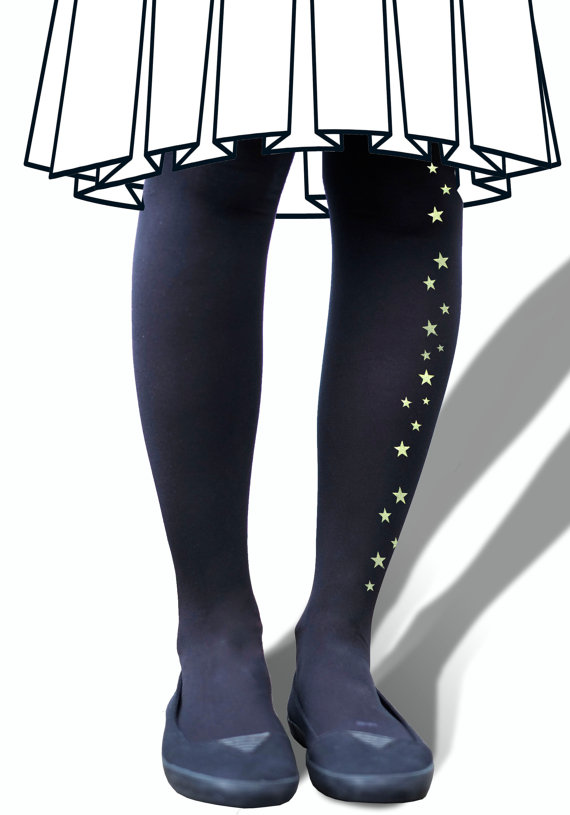 Hilariously, these stars actually glow in the dark.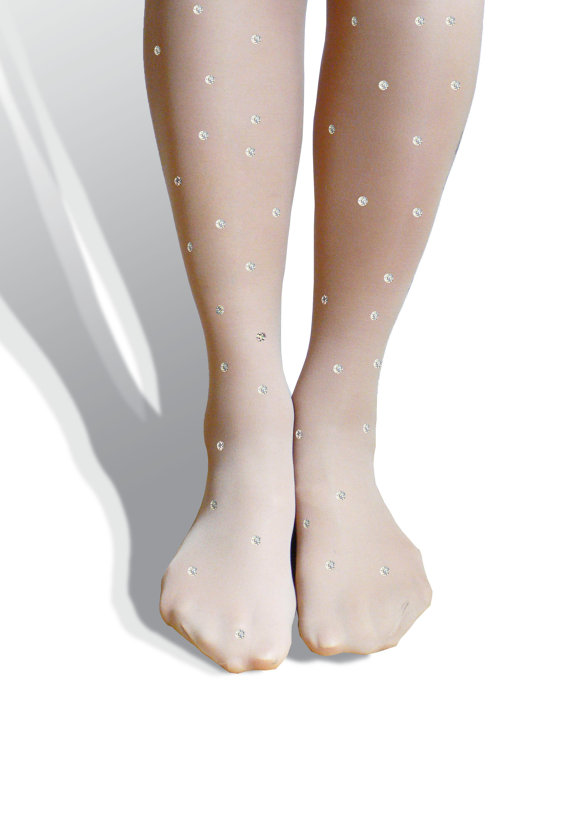 I think these sparkly silver polkadots would be super cute peeking out from under a tea-length wedding dress.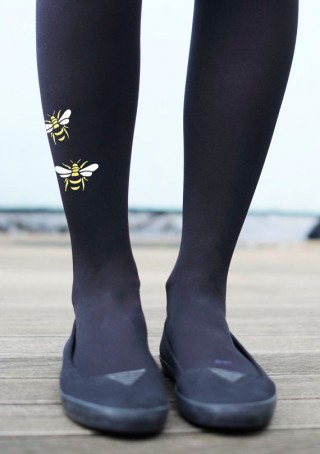 I've got a girlfriend who I know would just love these Bee-print tights
Have you got a favourite?