Top: Country Road
Khloe Ballet Pump: Comfortview via OneStopPlus
Necklace: Cat Rabbit
After the Great Famine of Horizontally Striped Shirts of the mid-noughties I seem to be incapable of not buying them when I see them in stores, and this ponte number from Country Road is a firm favourite. It's the lovely, long, tapered sleeves that made it a winner when I tried it on a few weeks ago, and the lighter stripe makes it a good trans-seasonal number for spring.
Funny story about this outfit. I was waiting to use the bathroom in a shopping centre and two little girls – maybe 4 and 7 – were also waiting with their Mum. The younger gasped when she saw the hot pink shoes, and said "I like your shoes are you wearing tights?" and when I leant down to show her that, yes, I was wearing stockings my necklace swung and caught the old sister's attention who grabbed it to take a closer look. Their poor mum was a bit mortified ("we don't just GRAB strangers!") but as far as I'm concerned it was officially a Very Successful Outfit.
The older sister dubbed my necklace "Katie The Cat", so here she is in all her handmade, felted glory: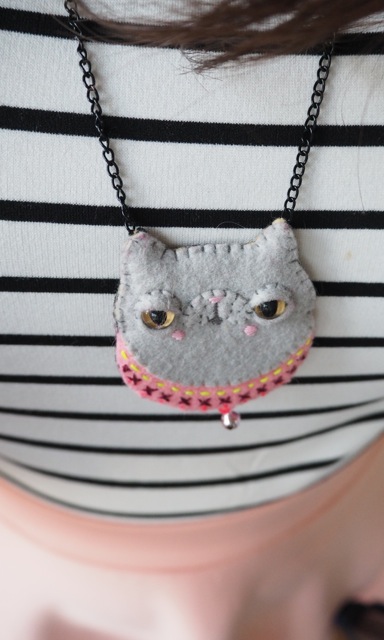 I bought her when I visited the (wonderful) recent "Cat Market" with my equally crafty and cat-mad friend Fi from Fisha Designs. She's been hand stitched and embroidered, with dainty little eyelids and a jangly bell around her neck that chimes when I move. And if you're not a cat person (it's OK, I won't judge you) there's an equally cute "LiBEARian" necklace on offer in Cat's shop right now.