Top: Dorothy Perkins – remixed
Skirt: Ivanka Trump
Tights: Big W
Shoes: Aerosoles
This top is definitely an oldie but a  goodie.
I bought it in 2009, remixed it in 2010, and it's still in my wardrobe, which is pretty unusual for me as I have a habit of "retiring" items regularly (and then often replacing them with alllllmost identical items further down the track. Idiot.)
I don't get too nostalgic about my clothing. I'm hyper-aware of the 20/80 rule (apparently we wear twenty percent of our wardrobe eighty percent of the time), and besides I find the more stuffed my closet is, the harder it is for me to find something to wear in the mornings!
As a result there's probably only a handful of items – like this one – that have survived cull after cull after cull. And usually they're the items that are meaningful to me for one reason or another.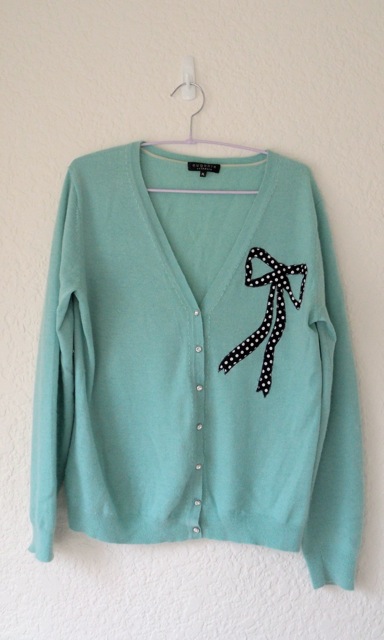 This cardigan is the first piece of cashmere that I ever bought myself. I swapped over the boring blue buttons for some sparkly diamante ones, and dubbed it my "Tiffany Cardigan" because it's an almost perfect Tiffany blue. In 2009 I discovered that my brand-new kitten, Suki, had put a couple of holes in it with her sharp little claws so I "mended" it with the bow appliqué.
This skirt was given to me by Chitra Mangma of Chitra's Closet in payment for being a runway model for her Spring/Summer 2010 collection. It was a hilarious experience, and there's part of me that still doesn't believe that short, plump, thirty-something year me, was on a runway. I still love the skirt, and wear it regularly, though sadly Chitra closed her doors earlier this year.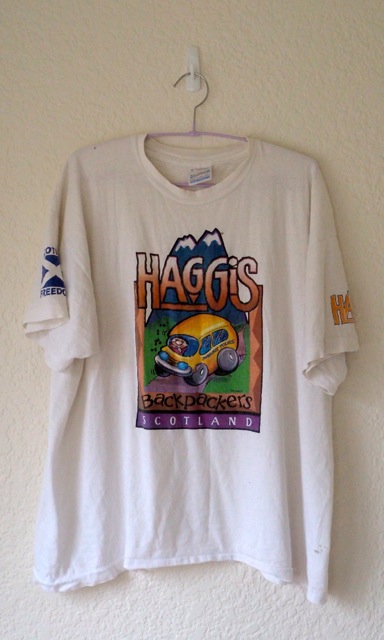 This t-shirt is one of the only souvenirs I still have from the year I spent in London when I was 18. It was from a fabulous bus tour that I took around Scotland. I was kissed by a stranger, guest presented on a radio show, tried whiskey for the first time, walked around the ruins of my ancestors (Clan Mackinnon, represent) and had a Canadian teach me how to pull a Guinness in a bar called The Saucy Mary. It. Was. Awesome.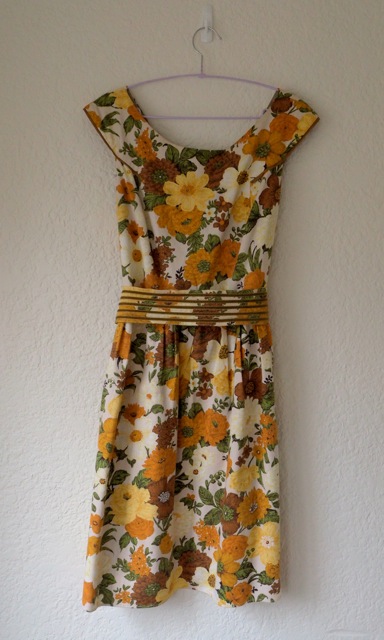 This Sohomode dress is important to me for such a number of reasons. Firstly: it was one of the very earliest purchases that I made on Etsy, and it's easily the one that I've worn the most often. I loved it so much I sent my best ladyfriends down the aisle in their own versions as my bridesmaids. More significant is the fact that because of this dress I got to meet the wonderful Louise, who isn't just an amazing dressmaker but is also one of the most welcoming and generous people of my acquaintance. Meeting her and her family in their beautiful home in New York was one of the few bright sparks from last year and I feel incredibly blessed to be able to count her as a friend.
This extraordinary dress from Eliza Parker was one of the first "gifted" items I've received for the blog, and I remember how blown away I was by the idea that people wanted me to wear their clothes. Jessica Tenaglia – the absolutely lovely designer at the helm at Eliza Parker – gave me this dress in person when I visited San Francisco with my ex in 2010. It's an amazing colour, and it still gets a lot of airtime. I actually wore it last night to the Melbourne Writer's Festival Opening Night Party!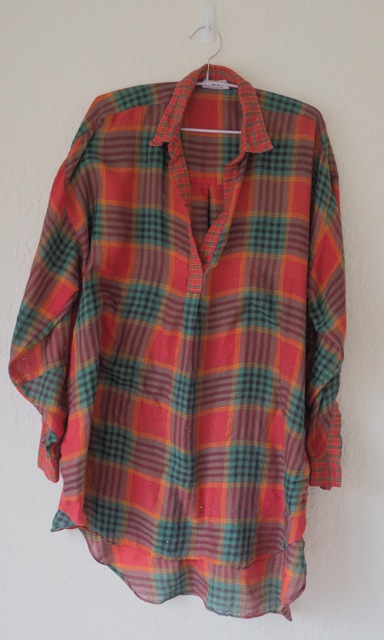 This is definitely the oldest thing in my closet. Actually, it's even older than I am. My Mum tells me she wore this oversized plaid shirt when she was pregnant with me, and I can't believe that 36 years later I still wear it myself. It's soft as soft, and the seams are mended with the dodgy hand-stitching of a teenager who spent too much time with her knees tucked up under the hem. It's as familiar and comforting as a hug from my Mum, and I always thought it would be beautifully cyclical if I could wear it whilst pregnant with my own child. Hopefully one day.
Check it out – here's a photo of me wearing it whilst holding my newborn baby brother. He's twenty-two now. Horrifying.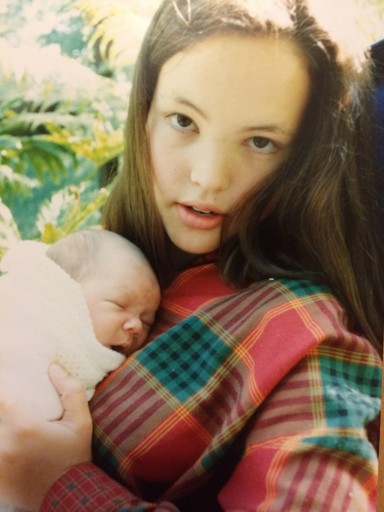 How about you? Are there any items in your wardrobe that you're holding onto for nostalgic reasons?