Dress: Lagamta
Belt: I.D.S Fashion
Shoes: Comfortview "Regina"
I'm getting a last little bit of wear out of my winter wardrobe before spring in Melbourne sets in properly. This classy wool-blend dress definitely isn't one of those trans-seasonal numbers that you can wear on cooler spring days, so I'll be saying goodbye to it for the rest of 2014 after today.
The first time I wore it a few of you mentioned that you thought it was a little bit too big for me. Actually it's a perfect fit, but the addition of a belt does give it a bit more definition.
I do love, love, love the draped neckline, and it's inspired me to make my next sewing project Colette's "Myrtle" dress (Australian buyers can get it from Stitch56).
The last Colette pattern I tried was a bit of a disaster, but their Macaron is still one of my all-time favourites and I've made it three times already successfully.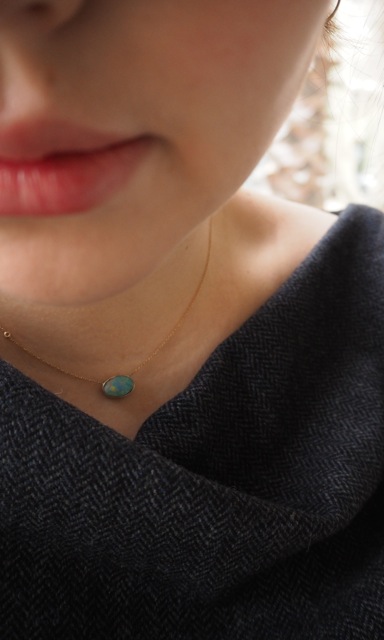 Dali Necklace: NIXIN
For my birthday earlier this year I decided to treat myself to this beautiful opal necklace from LA-based jeweller NIXIN. It's called the "Dali" necklace and it's just gorgeous in person. The Australian opal glows in pales blues and blush pinks that remind me so much of a dawn sky and the little bezel-set diamond further up the chain sparkles like the morning star. I call it my "new day" necklace.