Marianne Floral Dress: Princess Highway 
Blouse: Dorothy Perkins
Cardigan: Glassons
Tights: Levante
As everyone probably knows I'm a big fan of positive body image. The media says a lot of things about the "right" way to look, and not a lot of us fit that criteria (I know I certainly don't) so it's very easy to start overthinking your own perceived flaws. You look in the mirror, and all you see is your wonky front tooth, or that weird bump that just appeared one day and didn't go away, or how that black eye you got last year killed some nerves and now your eyebrows don't work the same way they did before (OK, maybe that last one's just me). You wear cardigans on stinking hot days because you're shy about your upper arms, and eschew pencil skirts because you feel like everyone is looking at the curve of your belly and judging you for it. The truth is probably most people are just too caught up in their own inner monologues to notice you at all, but I'll admit it's hard to silence that voice, especially if you're having a kind of crappy day, or something's happened that's knocked your esteem for six.
For me it's my knees.
I'm a bit shy about my legs at the best of times. I don't know why; They're strong – like, really strong. Like, a few years ago I had a personal trainer who suggested I look at pursuing professional weightlifting strong – but they're pretty chunky too. My wide calves often defeat even wide-calf boots, and the little poochy bits of flesh over my knees? Oh my god. When I go out with them exposed I pretty much feel like I've painted them red and strapped on a couple of flashing sirens, and maybe one of those wacky waving inflatable arm-flailing tube men. Which is insane.
No-one's looking at me on the street and going "HAHAHA, Did you see that lady's KNEES?", and even though I've received my fair share of trolling comments (my favourite's still "You look like a pig wrapped in cellophane") no-one has ever specifically singled out my poor, maligned knees.
So I'm trying to embrace them a little more.
A year ago I probably wouldn't have bought this dress (because, KNEES) but it was heavily on sale at Myer, it's a lovely soft flannelly fabric, and it buttons down the back. Because of my two month sojourn in New York over summer I feel like I've been in a perpetual cycle of autumn and winter for the last year, and I was mightily sick of my cool-weather wardrobe, so I thought I'd indulge. I'm glad I did, because I've worn it heaps since then – always in this combination of collared blouse, cardigan, and tights.
The russety autumn colours work well together, and give my super-pale perpetual-winter skin a really lovely creaminess.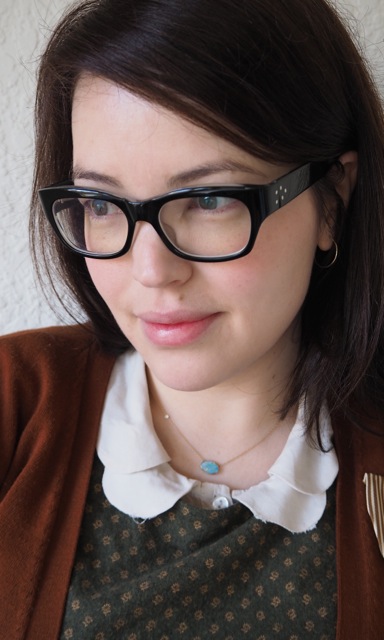 With the cardigan, and the peter pan collar (slightly frayed, because the poor thing is on its last legs) and the black-rimmed glasses (soon to be retired – the wretched things have developed a fatal crack in one of the arms) I'm happy to admit that it's one of my more hipstery outfits.
Look, I even put a bird on it!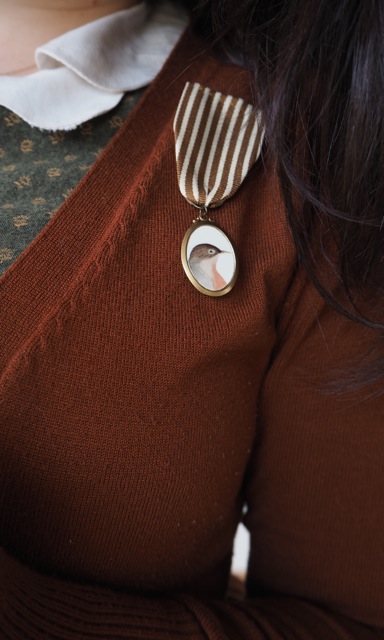 Brooch: Julia Swaney (no longer available, but similar here)