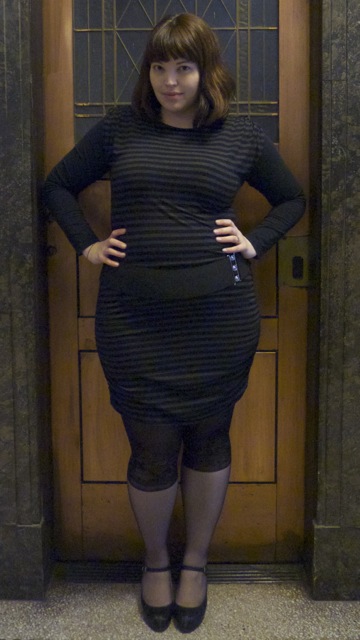 Dress: Dorothy Perkins
Top: Glassons
Tights: Red or Dead @ Tights Please
Shoes: Shubar
I am always on the lookout for cute tights and stockings, so when Bernadette from Tights Please invited me to do a review for them I leapt at the chance.
Over the years I've discovered that the UK – much like with bras – has a much more inclusive approach to hosiery sizing than here in Australia. Whereas the few local brands that do plus size pantyhose usually do nude, opaque, and if you're very VERY lucky also fishnet, in the UK I've discovered a much broader range of patterned tights in larger sizes.  Pamela Mann, Simply Be, even Marks and Spencer's got some corkers.
Bernadette sent me a pair of the "Billy" tights from a brand called "Red or Dead" which I've never seen in stores around Australia.
They arrived in a "L" which worried me a little as I wasn't sure they'd fit, but though they were squeezy to get on after a few minutes they loosened up and were quite comfortable.
I chose the "Billy" because they reminded me of a pair of legging-style tights from Target that I used to own, but got holey too quickly, as Target tights are wont to do.
The base of the tights is a lovely sheer black, and the top is opaque with a lace detailing around the knees.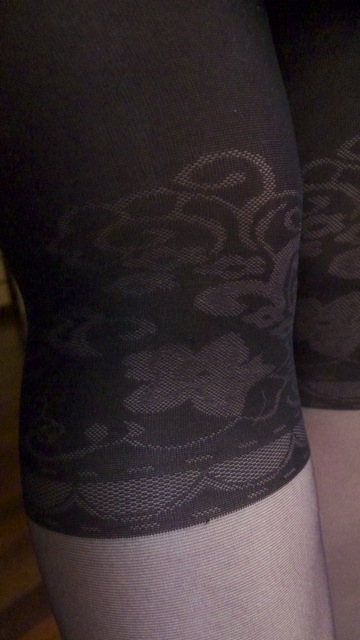 The result's kind of edgy and pretty at the same time, with a sort of semi-leggings effect that works well under dresses too short for me to wear confidently bare-legged.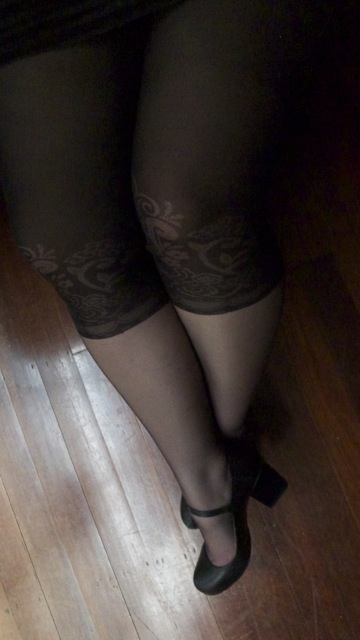 There's a few other brands at Tights Please that are new to me – "Pretty Polly", the sister brand to Henry Holland; "Aristoc", "Cette", and "Levante" several dollars cheaper than in stores.
They've got an easy to navigate site, with an entire section dedicated to plus-size/X-large tights. They accept PayPal, and shipping's a very reasonable 8 pounds, no matter how large the order.
They also do a range of other items including bras, knickers, socks and leggings, so there's a little something for everyone.