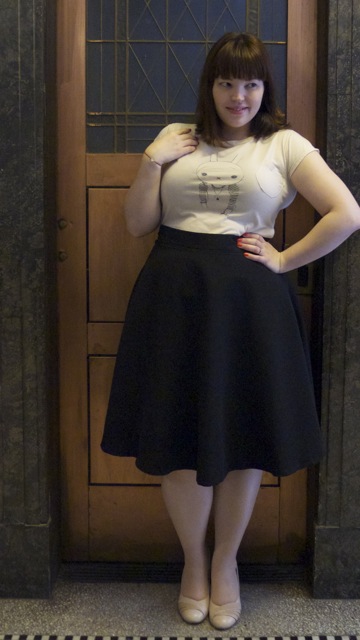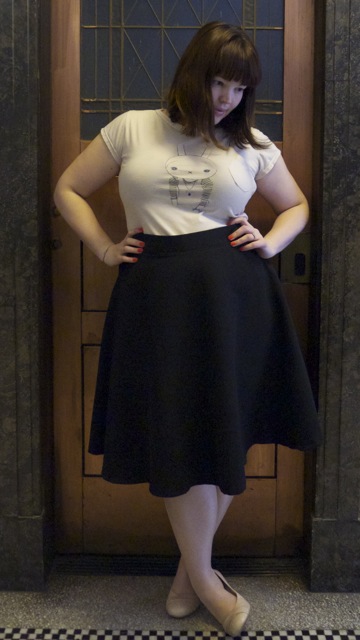 Top: ????
Skirt: DIY
Shoes: Wittner
I've got rather a silly number of skirts in my wardrobe, so it was difficult to make a choice what to wear for my second Aussie Curves challenge "Skirts".
In the end I decided to MAKE one!
Recently my favourite Asos skirt has been getting a bit grey from being worn and washed too frequently. It's not quite a full circle skirt (Asos calls it "Fit and Flare") but more of a 3/4 circle skirt. That means it skims my hips before falling to a deliciously full hem, rather than coming straight out from my waist. I've discovered through trial and error that this is the most flattering look for me, so I've been on the hunt for a similar skirt, perhaps in a less easy-to-crease fabric than Asos's cotton drill.
There were a few contenders on Modcloth (including this delicious nautical skirt) and I very nearly bought the "Flirt Skirt" from Mode Merr but I missed out on the expiry date for a 20% discount code, so got stroppy and decided not to.
In the end I used the original Asos skirt as a template for a new black skirt made from suiting fabric that had enough weight to hold its shape, but didn't crush.
I used the same technique that I used to DIY my elephant skirt, but if you didn't have a handy skirt to use as a template, making circle skirts is one of the easiest sewing projects out there.
There's lots of great tutorials online, but I really liked this one.
I'm pretty pleased with how it turned out. It didn't take too long, and cost me $42 (and that was with $20 a metre fabric!)
I think the hem's a little wonky, but as you can see the skirt's definitely wearable!
Next week…. POLKADOTS! (very excited!)
Powered by Linky Tools
Click here to enter your link and view this Linky Tools list…