Blouse: Asos
Skirt: Vicious Venus
Shoes: Wittner
Gosh, it's been a busy week! I spent some of it in Sydney for work – was upgraded at the hotel to a suite which was pretty exciting. It was booked under my new, married name, and The Sophisticate was joking (maybe) that they'd upgraded me because now that I was Italian I was used to the finer things in life. Whatever the reason, it was a lovely surprise!
Sydney put on some spectacular weather for my visit, but Melbourne was back to it's dour self upon my return, and it's been cold and rainy all weekend.
That's actually OK with me, because I've bought a few pieces recently that won't carry over into hot weather, and I'm happy to get some wear out of them when I can.
For instance, this long-sleeved blouse from Asos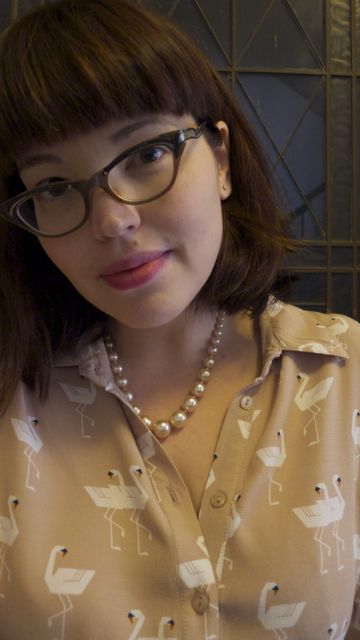 I completely love the Florida-cum-Deco-esque styling of the swans (flamingos, probably, but I prefer thinking they're swans), but the fit is pretty boxy. The arms are too big and too long, and I'll have to adjust the buttons on the cuffs because the sleeves keep falling over my hands. BUT, the fabric's quite thick and doesn't crush at all, and I've been wearing the blouse pretty regularly since it arrived so I'm glad I bought it.
The skirt that I'm wearing is also new(ish). I'd arrived half an hour early for an appointment in Brunswick, so took the opportunity to drop into rockabilly shop Vicious Venus. Just for a window shop, you know… Until I saw the Art Deco Fishtail Skirt.
The detailing on the hips is so beautiful in person…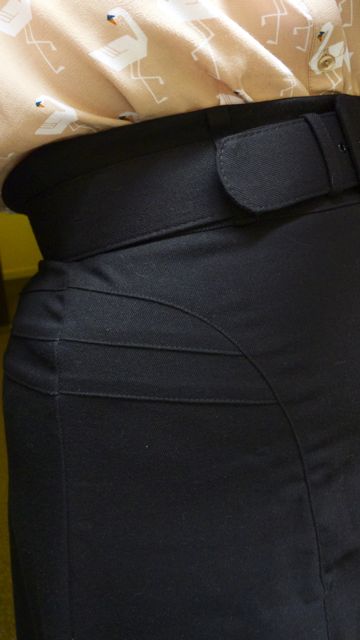 …but ultimately, what sold me on it was the back of the skirt. Like my favourite Queen Clothing skirt it has a scooped high-low hem, and the back of the skirt is panelled, which gives a dramatic effect when you sashay down the street. And in this skirt, sashay you must.