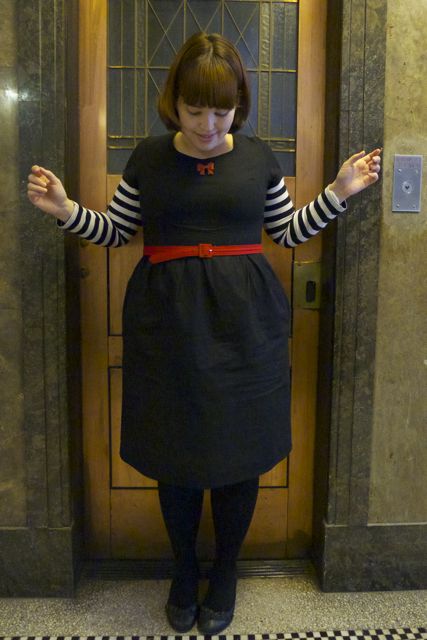 Dress: Kay Em Kay
Top: Glassons
Tights: Ambra
Belt: (Free with Bettie Page dress)
Brooch: Pirdy
It's very easy for me to "winterise" most of my custom-made summer frocks with the addition of opaque tights and a long sleeved cardigan, but what if the statement feature of the dress is on the back? Well, you layer underneath, obviously.
The wonderful Kay Em Kay heart-back dress that I bought for my honeymooon (minimoon? micromoon?) has been sitting in my wardrobe, and I was so sad I wasn't going to be able to feature it in May(de) because it's totally a hot-weather dress. Then I thought about how I've worn close fitting long-sleeved tops under t-shirts before, and I decided to do the same thing with the dress.
I think the result is a little bit old-school Tim Burton with the black and white stripy sleeves. I threw in a bit of red in the waist and the little glittery bow brooch at the neckline because I felt like I'd walked out of a black and white film. And also because, well, why not, right?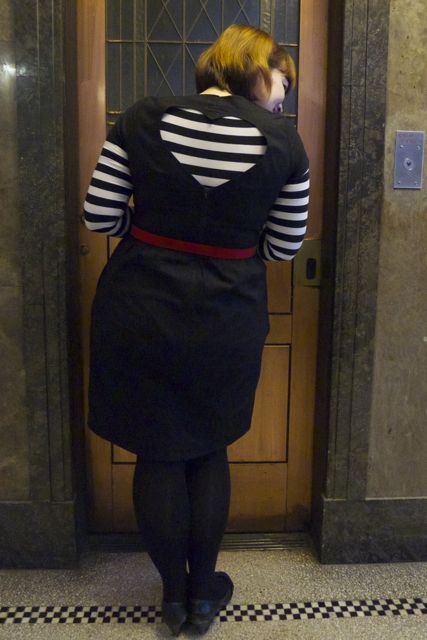 From the back it's…. ooookay. The pattern of the top flashing through the cutout is great, but I'm not sure I'm sold on the wide stripes; it seems to mess with the clean shape of the heart. I think I'd like to try it again (not with a plain top – I tried that, and it looked weird from the front) but maybe with a polkadot top. Or a top with thinner stripes.