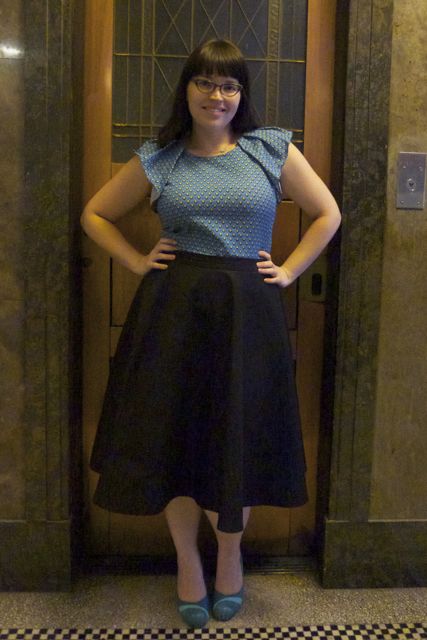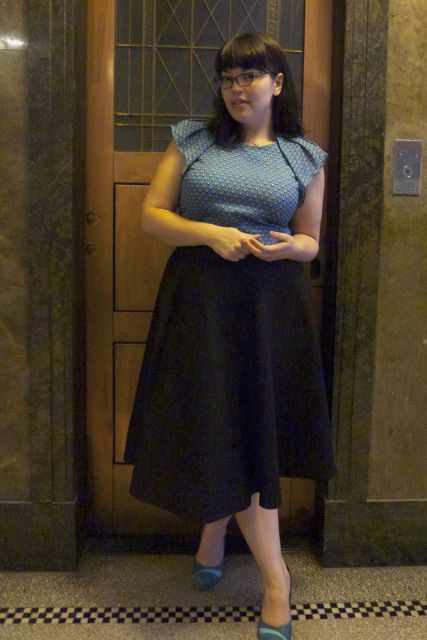 Top: Sunny Girl
Skirt: Asos
Shoes: Chie Mihara
As a size 16 to 18, with an f-cup rack to boot there are dozens of shops in Melbourne that I just don't bother to venture into, no matter how enticing the outfits in the window.
Because, quite simply, it makes me cross when I see clothes that would look amazing on fuller figures, but are limited to those of a size 14 or under.
And I hate the feeling that I'm being judged by my size; that the sales assistants are looking me up and down and thinking "you WISH you could shop here".
They're right. I WISH I could shop at Cue. I wish I could fit clothes at Jigsaw and Witchery. These are stores that consistently win Best Fashion Retailer awards, but I (fashionista that I am) don't get a look in.
It aggravates me a whole lot less since I discovered online shopping, but I still get a twinge of disappointment when something amazing catches my eye, then I realise it's from a label that doesn't cater to my size.
Anyway, I didn't mean for this to turn into a ranty-pants post about how the fashion industry in Australia sucks (which it does) but I was working my way toward saying that the other day I was wandering through the Walk Arcade, and saw racks of a quite cute blouse outside Christopher Ari.
I wouldn't usually pause, because Christopher Ari stocks mostly cheapie brands like Sunny Girl and CKM that wouldn't come close to fitting someone of my dimensions. But I liked the art-deco style print on the blouse so much that I thought I'd give it a whirl anyway, and was pleasantly surprised to see it zipped up quite comfortably.
The blouse is probably meant to fit somewhat looser, and the  cape-like sleeves don't sit perfectly, but the cut on the body is great, and I loved the teal and mustard hues. Extra points for the fact it doesn't crease around my middle when I sit down for long periods of time.