Top: Liz Jordan at Noni B
Cardigan: Glassons
Trousers: Asos
Shoes: Firetrap via eBay
I think I mentioned a few posts ago that I was on an endless frustrating hunt for mustard coloured shoes. After putting the better part of a week towards scouring every shoe shop in Melbourne CBD I had to finally admit that this was getting me nowhere, and that I should just turn to my old friend The Internet.
I'm always a bit leery of buying shoes online unless its a brand I'm familiar with. Like clothes, shoe sizes are variable between brands, but unlike clothes, online shoe shops never have measurement guides and more often that not their "international conversion charts" are wildly incorrect.
Add that to the fact that I'm a bit fussy about my shoes. I don't like unreasonably high heels. I'm reasonably wide-of-foot. If I can get away with bare feet I will, so I prefer kid lining, rather than that glossy leather you usually have. I also don't love peep-toes, and I think sling-backs are trashy.
I saw these yellow (not really mustard, I'm afraid) shoes on eBay for a very reasonable price-point and they seemed to fit a lot of my criteria: Round toes, decent heel, kid lining. An unknown brand but they seemed comfortably wide.
They were a size too big, and with both peculiar little spy-holes in the toes and – horrors – a kind of exaggerated sling-back, but I bought them anyway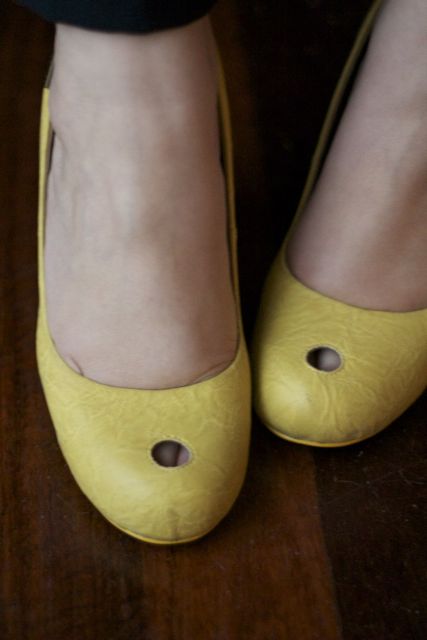 They're actually pretty good, but definitely at least a size too big, even with those non-slip heel backs installed. Has anyone ever had experience with re-sizing slingbacks? I though I'd ask the local cobbler if he could bring them in a little at the back, but I don't want him to stare at me like I'm a crazy person!