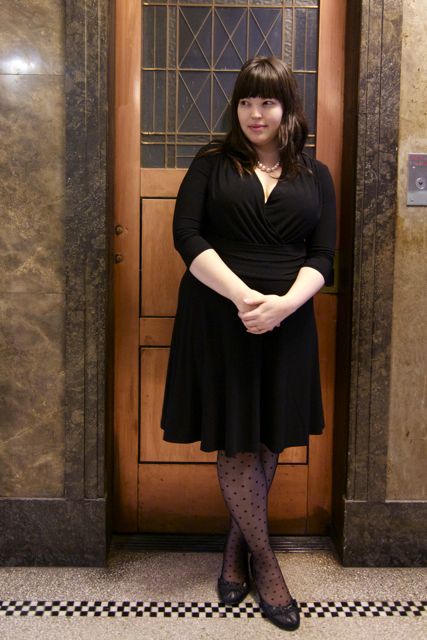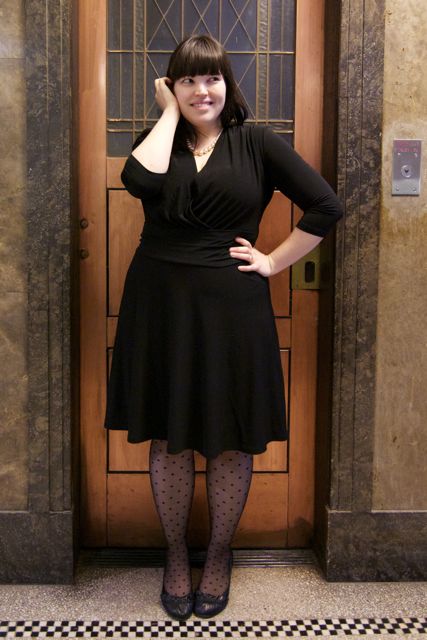 Dress: Eliza Parker
Tights: Basque (@ Myer)
Shoes: Wittner
I do like wearing colour, but every so often I like to join my fellow Melbourne brethren and don an all black outfit.
This black "Venice" dress from Eliza Parker's a pleasure to wear – it has a draped surplice bodice which I had to pin for modesty's sake but was an instant hit with the Sophisticate. The removable sash can be subbed out for something else for a splash of colour, and the whole piece is constructed with Eliza Parker's usual excellent quality. It's made of a heavy poly-spandex jersey and is fully lined, which means that it's fabulously comfortable, but gives a smooth line too.
It does seem a smidge smaller than my other Eliza Parker pieces, particularly in the arms – or maybe carrying around my huge new Hardie Grant kit has just given me buff arms!
Teamed with fun polkadot stockings from Basque's plus range of hoisery for just a little bit of whimsy and I feel quite at home on the streets in amongst the other black-clad Melburnians.