Jeans: Embody Denim
Shoes: Wittner
Necklace: Gifted by Joss
You know what I hate? Fashion Do's and Don'ts. They're bollocks. Seriously. I try and break them every day. The problem is most of the fashion "rules" for someone with my dimensions are all aimed at "slimming" "disguising" and "hiding". Colours are a no-go, I should wear black as it streamlines my figure (no one mentions, it's also kinda boring). I should always wear heels (impossible) and never horizontal stripes (also impossible). And I should never, never wear skinny jeans.
HA! TAKE THAT, FASHION POLICE!
I love this skinny cropped pair of high-waisted jeans. It's a great pair of summer denim, all the better for wearing with a jaunty ponytail, a pair of flats and a floral blouse for an ultimately retro-styled look. The high waist creates an hourglass shape, which is emphasized by the narrow legs. My wide hips, and full thighs aren't "balanced out" with a bootleg cut the way the Fashion Do's and Don'ts would prefer, and you know what… I like it that way!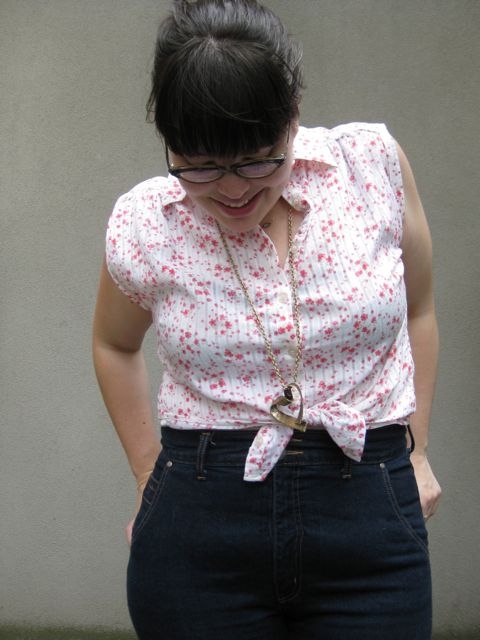 So. Off my The-Only-Fashion-Don't-Is-Don't-Listen-To-Fashion-Don'ts-Soapbox… you may may noticed another new addition to the Frocks and Frou Frou front page: A few readers have requested that I start using tags to make it easier to find things on the site. I've got so much in the archives, and the thought of going through it all to tag it sort of leaves me reeling, so as of now I'll be tagging all posts I put up. At the moment I'm tagging brands, but was wondering would you prefer I tag jeans/boots/dresses/skirts, etc? Is there anything else you'd like to see on here? Shoot me an email, or leave a comment below and I'll see what I can do!