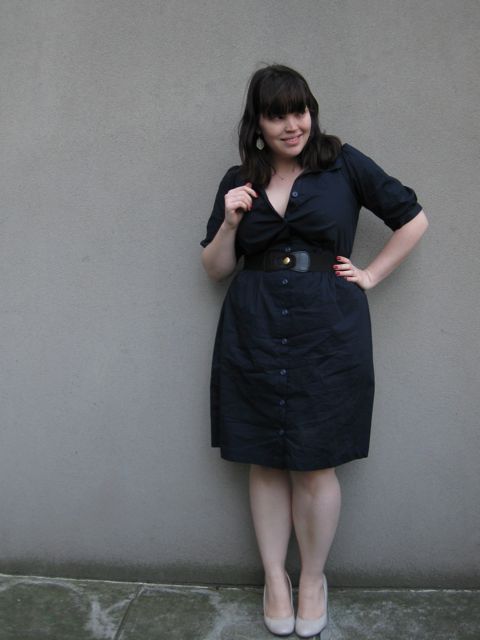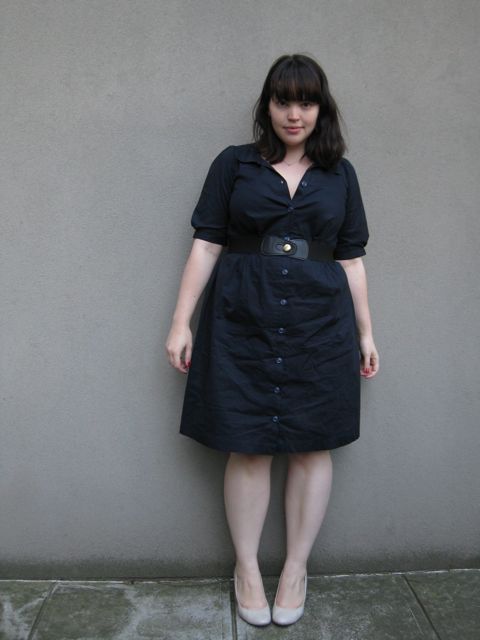 Dress: Eliza Parker
Belt: Eliza Parker
Shoes: Zu
The weather's finally warming up a bit in Melbourne (hurrah!) though of course I'm a few days away from heading back into an Autumnal USA (also hurrah!). In this little window of spring I'm taking the opportunity to wear a few of the more breezy items that have appeared in my wardrobe over the the last few months, and this is one of my faves!
The cotton shirtdress was made by Eliza Parker, and it's the most wonderful shape. I thought I'd have to sew the front up, but Jessica's managed to put together a fit that follows the contours of a curvier figure, but doesn't gape at the buttons. The waistband's elasticised at the back, nipping in at the waist, and it sits a little higher than normal which gives the effect of elongating my legs. The elbow length sleeves are perfectly flattering and fit well without being constricting at all.This shot's been taken at the end of a long, sweaty day so I look a little crumpled, but the dress was a pleasure to wear in nearly 30 degree temperatures.
I'm wearing it above with an elasticised waist belt that really emphasises the hourglass shape of the dress, but it comes with a self belt for a more casual look:
Dress: Eliza Parker
Shoes: Schuh
Necklace: Gifted
I wore it like this to a delicious morning tea with my favourite ladies: Sally, Callie & Fiona, and the general consensus was that it was a splendid dress.